Men's Health: Is Your Office Chair Killing You?
July 22, 2011

Slate: A Desk That Lets You Sit or Stand
July 29, 2011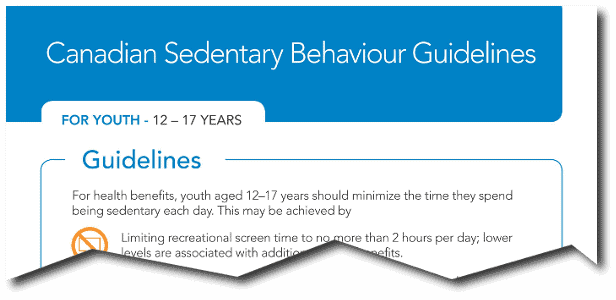 TORONTO (ONTARIO) FEBRUARY 15, 2011 – The Canadian Society for Exercise Physiology's (CSEP) Canadian Sedentary Behaviour Guidelines for Children and Youth are the first, systematic evidence-based sedentary behaviour guidelines in the world. The Canadian Sedentary Behaviour Guidelines provide recommendations to Canadian children and youth on limiting sedentary behaviour during discretionary or 'free' time in order to reduce health risks. The Canadian Sedentary Behaviour Guidelines state for health benefits, children (aged 5-11 years) and youth (aged 12-17 years) should limit recreational screen time to no more than two hours per day. Children and youth should also limit sedentary transport, prolonged sitting and time spent indoors throughout the day.
"Canadian children and youth spend sixty-two per cent of their waking hours in sedentary pursuits, with six to eight hours per day of screen time as the average for school-aged kids," said Dr. Mark Tremblay, Director, Healthy Active Living and Obesity Research (HALO) at the CHEO Research Institute. "Lower levels of sedentary behaviour are consistently associated with improved body composition, cardiorespiratory and musculoskeletal fitness, academic achievement and even self-esteem."
Sedentary behaviours are characterized by little physical movement and low energy expenditure and include sitting for long periods of time, using computers, playing passive video games, motorized transportation and watching television. Scientific evidence has shown a direct connection between increased sedentary time and decreased fitness, poor self-esteem, weak academic performance, obesity and increased aggression.
Healthy active living requires a 'whole day' lifestyle approach, with parents, caregivers and teachers as primary role models. The Canadian Physical Activity Guidelines recommend at least 60 minutes of moderate- to vigorous-intensity physical activity per day. The Canadian Sedentary Behaviour Guidelines highlight what children should be doing the other 23 hours of the day. The majority of sedentary time can be replaced with light intensity activity and this can be done in a variety of ways.
Examples include:
Age appropriately, have children/teens walk or bike to school with group of kids from the neighbourhood instead of getting a lift in a car;
Limit after school television, sedentary video gaming, texting and screen time and replace it with planned activities outdoors such as walking the dog, building snow forts, raking leaves, playing hop-scotch or skipping rope;
Indoors, help children and youth stay active by having them help with meal preparation and other household chores;
In the evening, encourage teens to visit friends instead of communicating with them online, or suggest going for a walk or bike ride after dinner;
Prior to bedtime, engage in an active family game that limits sitting and screen time; and
Interrupt sedentary behaviour throughout the day – make a game of it!
"The Canadian Sedentary Behaviour Guidelines for Children and Youth are complementary to the Canadian Physical Activity Guidelines for the same age range," said Dr. Audrey Hicks, president, Canadian Society for Exercise Physiology. "The two guidelines together can be thought of as a recipe for families to give children the best possible chance to gain health and social benefits. We know that families can be creative and find the time to make the 'whole day' healthy, active living approach a priority."
The Canadian Sedentary Behaviour Guidelines are based on a rigorous scientific process and reflect the best available evidence. A detailed report outlining this process can be found on the CSEP website (www.csep.ca/English/view.asp?x=881) and a research paper was published today in the scientific journal Applied Physiology, Nutrition and Metabolism (http://apnm.nrc.ca).
To view the new Canadian Sedentary Behaviour Guidelines please visit www.csep.ca/guidelines.